For Acne
The SilkPeel™ Dermalinfusion™ Clarifying Formula provides relief for the most sensitive, acne prone skin. This can be used as a stand-alone procedure, or in combination with laser and light-based treatments to clarify oily, blemished skin and improve the appearance of acne
Clear – Salicylic Acid: Promotes cell turn over, unclogging pores and enabling the production of new cells and clear skin.
Sooth – Aloe: Calms the inflammation and irritation associated with acne.
Tone – Abrasion: Even abrasion gently exfoliates and smoothens texture without irritating sensitive skin.
For Dry Skin
The SilkPeel™ Dermalinfusion™ Hydrating Solution is a nutrient-rich moisturizing formula developed to quench the thirstiest skin. The hydrating procedure can be used independently or to increase patient satisfaction when combined with laser and light-based treatments.
Smooth – Hyaluronic Acid: Reduces the appearance of fine lines, wrinkles and improves overall texture.
Hydrate – Aloe: Calms the inflammation and irritation leaving skin soft, supple and moisturized.
Calm – Chamomile: Even abrasion gently exfoliates and smoothes texture without irritating sensitive skin.
For Detoxification
Sun, stress and pollution can take a toll on skin at any age. If your skin is looking tired and dull, we can work with you to determine if SilkPeel™ Dermalinfusion™ with Vitamin C Solution is right for you.
Clarify – Tocopheryl Acetate: A stable derivative of Vitamin E, helps protect skin from photodamage, and improves the appearance of scars and wrinkles
Hydrate Aloe: Provides extra hydration, leaving skin soft.
Brighten – Sodium Ascrorbyl Phosphate: A derivative of Vitamin C, helps brighten dull skin and provides a secondary line of protection against photodamage in conjuction with a sunscreen.
Soothe – Allantoin & Dipotassium: Anti-inflammatory soothes the skin.
For Hyperpigmentation
The SilkPeel™ Dermalinfusion™ Lumixyl™solution employs cutting-edge peptide technology to improve appearance of discoloration and achieve a more even tone overall.
Clarify – Lumixyl™: Naturally occuring amino acids help to diminish dark spots caused by age and photodamage without the use of abrasive chemicals.
Brighten – Lumixyl™: With no risk of irritation, the powerful peptide can be used continuously to achieve a brighter complexion and even tone.
Radiate Lumixyl™: The combination treatment leaves your skin feeling fresh, healthy and luminous.
---
---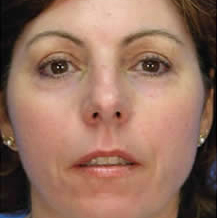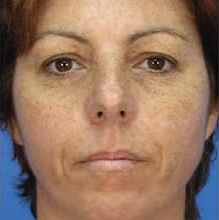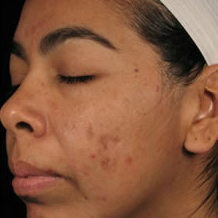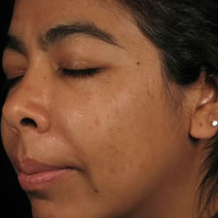 ---
What Conditions can be addressed with a SilkPeel™?
Clarifying oily, blemish prone or acne prone skin
Moisturizing dry, flaky patches or fine lines and wrinkles
Brightening red, or blotchy patches, skin that has been overexposed to the sun, or just needs a brightening boost
SilkPeel™ is also fantastic as a pre or post-operative procedure to improve results of IPL, Laser or other cosmetic and medical procedures
What are the features and benefits of a SilkPeel™
Goes beyond microdermabrasion by providing simultaneous exfoliation and Dermalinfusion™ topical delivery.
More than 10 combinations of medical grade diamond treatment heads and hand piece tip sizes for optimal treatment.
Patented hand piece design and dual digital LED display for precise vacuum and flow settings.
Performs a painless, soothing treatment.
Delivers immediate, noticeable results and promotes lasting skin improvement.
Allows an immediate return to normal activities.
Offers a choice of topical formulations to address each person's unique skin care needs.
Eliminates the risk and health concerns of procedures with aluminum oxide and other particle-based crystals.